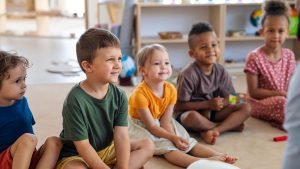 Welcome To
Our Preschool!
Light Spanish Immersion Preschool was born a few years ago in the heart of two parents. We observed the interest and curiosity for acquiring a second language in our community and also saw a universal need to embrace and promote strong principles and values starting in early childhood.  
The founders of the school are passionate and dedicated parents who believe that early childhood education, language immersion, musical arts and ethical values like love and respect play an important role in school readiness and into adulthood.              
Our Mission
Our mission is to provide high-quality education in a reliable and safe environment. Our philosophy is grounded in two main values: love and respect. Our innovative Spanish immersion model integrates musical language arts into everyday learning.
Our Vision
We are committed to contributing to our community through the education of new generations. We create an environment that allows all preschoolers to experience an educational journey that develops physical, cognitive, linguistic, and social-emotional skills. We are encouraging and empowering a generation through nurturing and visionary leadership.
Best Preschool
Education!
Everything we stand for revolves around providing the very best in care for your children. Here at Light Spanish Immersion Preschool, we understand just how tough the decision and transition can be to send your child to child care.