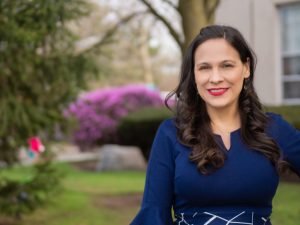 It's been a long journey of constant learning since I embarked on this adventure as an educator! My passion for pedagogy started when I was just a little girl. I now remember with a smile when I used to be the oldest kid in my neighborhood. I was a play leader and acted like a little teacher by helping the younger kids with homework and reading. 
I'm originally from Colombia, from a beautiful town called Pamplona, which is also called the Student City! There is something that always got my attention about languages and their grammar, the semantics and phonology that make communication possible. I have an educational background (136 university credits) in foreign languages, including English and French, focusing on pedagogy. My curiosity and interest in improving my English language skills, as well as my desire to know new a new culture, brought me to the United States. 
I'm also a mother of three beautiful girls, who have taught me to be a better educator. They had the blessing of attending a fantastic preschool, and as a parent and teacher, I noticed how ready they were in many developmental areas when they started kindergarten. The educational field always requires continual learning, and I am the kind of person who always pursues her dreams with excellence. 
 I hold an Associate's Degree in Early Childhood Education, and a Bachelor's Degree in Theology. In addition nine years of experience as the lead teacher in a preschool for children ages 15 months to Pre-K. I describe myself as a person who always challenges myself. For the last three years, I worked for the Somerville Public School District as a substitute teacher for grades K through 8 and also as a Spanish teacher for the Unidos Program (6th through 8th grade). 
Light Spanish Immersion Preschool will be honored to have you be a part of the early education journey for your child. We are enthusiastic to hear from you and meet your children!
Sincerely,
Teresa Villamizar-Lopez (Mrs. Lopez)